Leasing a vehicle can seem daunting if you're unfamiliar with the process, but the benefits it provides BMW drivers are worth exploring. Owen Ford, General Manager of the BMW of Little Rock store, outlines benefits and answers questions about the process in the following Q & A.
Leasing FAQs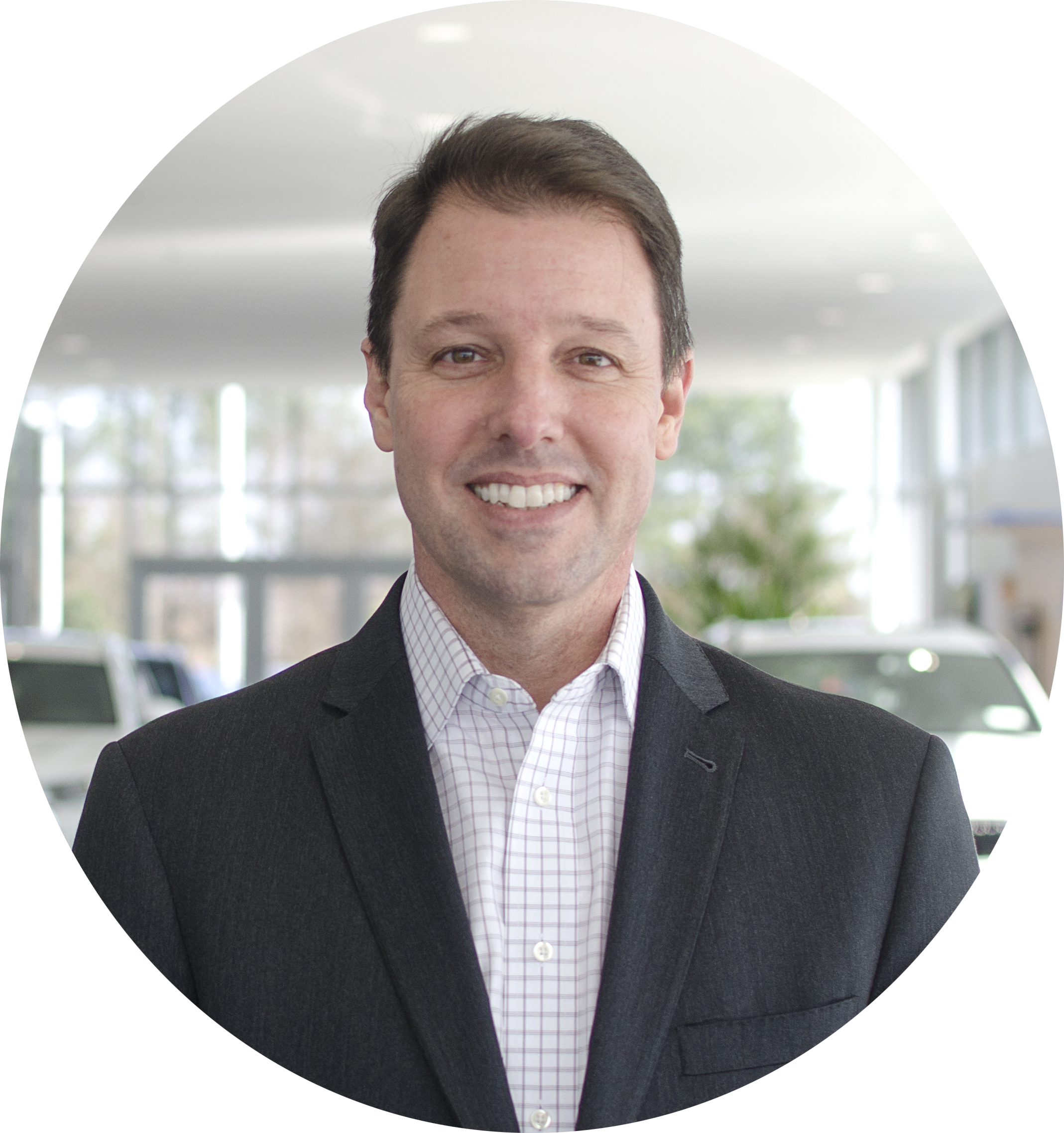 Q: What are the main benefits of leasing a BMW?
A: One, It's not nearly as complex as most people think, and two, you're going to get a lower monthly payment versus a conventional finance loan.
Q: Are there any misconceptions about leasing?
A: We actually had a customer who leased a car from us recently. Initially when we showed her the lease, she said, "Oh, no I don't want to talk about leasing." When I asked her why she said, "It's complicated and I don't know anything about it." A lot of people haven't entertained the thought because they think it's too confusing but it's actually quite simple.
Q: You lease yourself, correct? What do you like most about it?
A: I lease my cars for the same reasons that I tell everyone who questions whether leasing is the right option - I can get a newer car sooner since most leases are structured for 36 months and I don't have to worry about added maintenance costs as BMW provides maintenance for the 36 months or 36,000 miles.
Q: What happens if I get into a wreck in my leased vehicle?
A: The main benefit is you don't have to worry about ever owning a car that has a bad carfax. In other words, you don't have to worry about depreciated value, because you don't own the car, BMW does. At the end of the term you can turn it in and walk away.
Q: What does the pricing look like comparing leasing and buying?
A: When you're looking at a car with us we are going to show you what it will cost you term and payment-wise on a conventional finance loan, and then right below that we are going to show you a lease grid outlining how much less the payments are going to be on a lease. Plus, at least in the state of Arkansas, when you purchase a car you are subject to paying your sales tax after purchase, whereas with leasing it's included in your monthly payment.
Q: How does car mileage factor into leasing?
A: When you're looking at leasing, most every time, a manufacturer is going to offer different mileages. […] BMW actually has a 10k, 12k, and 15k lease structure for mileage Let's say you're a Realtor and you're going to drive 25K miles a year - does it still make sense for you to lease? Well, sure it does because with leasing you're paying for the portion of the car that you're using.
Q: Are there any special actions I have to take before I turn-in my leased vehicle?
A: You have to return the car in good condition. Routine maintenance is required, replacing worn tires or other items is a good idea so you won't have to worry about BMW sending you an invoice after you turn it in. Again a benefit with BMW, every new car that you buy or lease, comes with free standard maintenance for 3-years or 36k miles. So you just bring your car in for service, we change your oil or other maintenance items and give you back the keys when it's finished!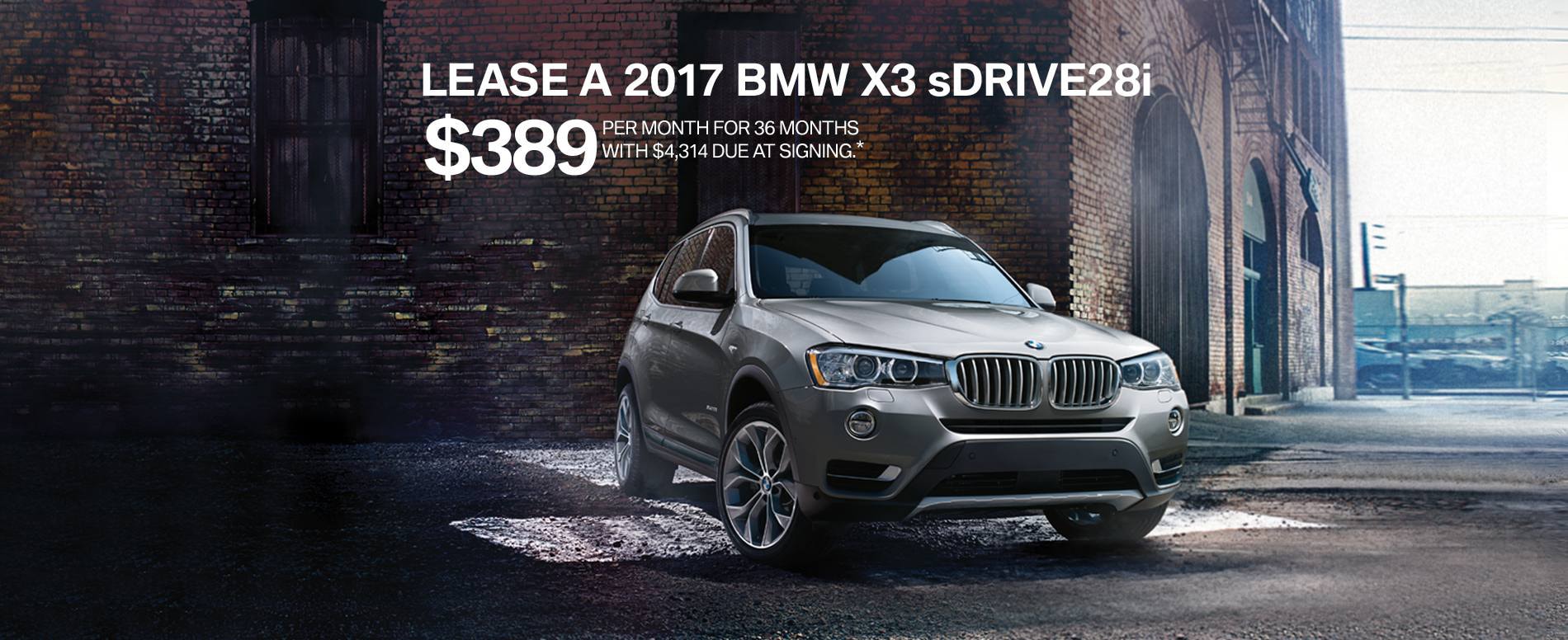 * X3 sDrive28i Offer not valid in Puerto Rico. Lease financing available on new 2017 BMW X3 sDrive28i models from participating BMW Centers through BMW Financial Services through July 4, 2017, to eligible, qualified customers with excellent credit history who meet BMW Financial Services' credit requirements.
Monthly lease payments of $389 per month for 36 months is based on an adjusted capitalized cost of $37,809 (MSRP of $42,695, including destination and handling fee of $995, less $3,000 customer down, $0 security deposit and suggested dealer contribution of $1,886). Actual MSRP may vary. Dealer contribution may vary and could affect your actual monthly lease payment. Cash due at signing includes $3,000 down payment, $389 first month's payment, $925 acquisition fee and $0 security deposit. Lessee responsible for insurance during the lease term, excess wear and tear as defined in the lease contract, $0.25/mile over 30,000 miles and a disposition fee of $350 at lease end. Not all customers will qualify for security deposit waiver. Tax, title, license and registration fees are additional fees due at signing. Advertised payment does not include applicable taxes. Purchase option at lease end, excluding tax, title and government fees, is $27,325.
Offer valid through July 4, 2017 and may be combined with other offers unless otherwise stated. Models pictured may be shown with metallic paint and/or additional accessories. Visit your authorized BMW Center for important details.
©2017 BMW of North America, LLC. The BMW name, model names and logo are registered